Discover a Proven Business System for Dramatically Increasing Amazon Wholesale Revenue
Over a Million Dollars In Our First Year on Amazon
All thanks to our proven business systems
Dear Amazon Seller,
In the first year of my wholesale Amazon business, I did $1.1 million in revenue.
I also made a lot of mistakes and wasted a lot of time.
However, I learned from those mistakes – and used them to build reliable, repeatable systems. These systems save us time & energy and are the foundation of our current business. They allow us to outsource the repetitive, mundane aspects of the business.
Whenever I speak to another Amazon seller about business systems, they say something like, "that's great, I need to build that into my business." Unfortunately, most of their time is taken up in the day to day running of the business and there's not much time and energy left to build systems and hire a team to run them.
With Wholesale eCommerce Business Systems (™), that is no longer an issue. When you invest in Wholesale eCommerce Business Systems (™), you will have an exact copy of every one of our 50+ business systems.
These are the systems that allowed me to do over a million in my first year and they will help you, too.
Stop getting bogged down in low-value mundane work today. Invest in your future. Invest in Wholesale eCommerce Business Systems (™) today.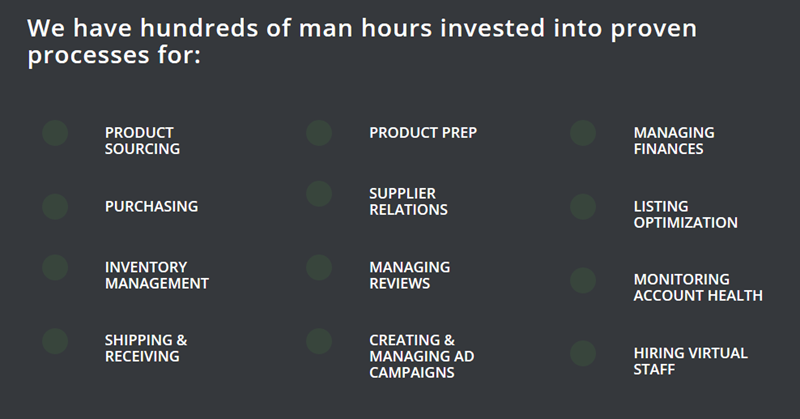 Increase Revenue Faster Than You Ever Thought Possible with Our Wholesale eCommerce Business Systems
My wholesale eCommerce business is not my first company. My first company was started in 2001 was ranked as one of Canada's PROFIT 100 fastest growing companies for two years in a row.
But it wasn't always a piece of cake!
After the first few years of struggling, I read a little book about the importance of business systems (you might have heard of it; it's called The E-myth: Why Most Businesses Don't Work and What to Do About It). The message rang true for me and I immediately set out to create a system for everything we did.
Prior to developing those systems, we made virtually every mistake in the book. We made bad hires, we ran out of cash, we missed deadlines, and we dropped the ball in customer projects – to name a few.
You name the mistake, and I can promise you I've made it.
Fortunately, we survived…and I learned one very valuable lesson along the way:
If you want to grow fast, you absolutely positively must develop a set of Standard Operating Systems because, without a repeatable method for doing everything, as you start to hire help, the wheels will come off the bus.
In other words, you simply cannot rely on your memory to ensure everything that needs doing gets done the same way every time.
It just doesn't work!
Discover The Benefits of Using Wholesale eCommerce Business Systems

I Am Offering You a Copy of Every One of My Business Systems
WEBS Professional

(for those with more ambitious growth plans)

Product Sourcing Processes

Handling Bounced Emails
HubSpot Configuration
Price Checking a Suppliers Catalog
Email Sourcing: Finding Competitors
Email Sourcing: Product Extractions
Email Sourcing: Importing Leads
Email Sourcing: Contacting Suppliers via Email
Email Sourcing: Handling Replies from Potential Suppliers
Google Sheets Template Library
Telephone Sourcing : Evaluate a Brands Potential
Telephone Sourcing: Importing Leads to Hubspot
Telephone Sourcing Step 3: Initial Contact of Leads (email and calls)
Telephone Sourcing: Pre-Call Research Checklist
Telephone Sourcing: Calling a Brand Script

Purchasing Processes

Creating a Purchase Order
Discontinued Products SOP
Pre & Post Purchase Order Actions
New Supplier On-Boarding
Adding New Products to Your Catalogue SOP
Product Re-Orders SOP

Product Preparation Processes

Reconcile Inbound Shipping SOP
Signing MAP Policy SOP

Supplier Relations Processes

Reporting MAP Violations SOP

Managing Product Reviews

How to Remove Negative Feedback SOP
Removing Product Reviews SOP
Removing a Review That Breaks Amazon TOS

Shipping & Receiving Processes

Create an Inbound Shipment to Amazon SOP
How to Decide to Ship LTL vs SPD SOP
How to Get Refunds from USPS SOP
Supplier Inbound Shipments SOP
Less Than Truckload (LTL) SOP
2D Barcode SOP

Sponsored Products (PPC) Processes

Create New Campaigns in Seller Central
Optimize Sponsored Product Campaigns: PPC Scope
Create a New Product Placement Ad Campaign in AMS
Create a New Sponsored Products Campaign in Seller Central
Optimize a Sponsored Products Campaign in Ignite
Optimize a Sponsored Products Campaign in Teikametrics
Tracking PPC Spend

Inventory Management Processes

Inventory Management SOP
Reconcile Inbound Inventory Checked In SOP
Inventory Management Template (includes reorder calculator)

Managing Finances

Contract Labor for Product Prep Work SOP
Monthly Inventory Tasks SOP
Profit First Activity Checklist SOP
Updating COGS SOP

Human Resources

Hiring a VA SOP
VA Holiday and Vacation Day SOP
VA Onboarding SOP

Product Listing Optimization Processes

How to Get Brand Registered 2.0
Merge Listings on Amazon SOP
Product Listing Optimization SOP
Update Product Listing (Bullets & Description) SOP
Update Product Listing (Images) SOP
Update Product Listing (Keywords) SOP
Addressing Amazon's "ASIN Change" Notifications SOP

Amazon Specific

Creating a Product Variation SOP
Amazon Daily Account Health SOP
Fixing Stranded Inventory SOP
Reimbursements and Unfulfillable Inventory From Amazon SOP
Removing Inventory from Amazon SOP
Searching for Duplicate Sellers SOP
Promotions on Amazon
How to Edit Permissions in Seller Central
Create an Amazon Web Address
Amazon's Subscribe and Save

Trent Dyrsmid – Wholesale eCommerce Business Systems (WEBS): Videos, PDF´s

MEMBERS ONLY

Sign Up to see all our download links and hidden content.

100% Satisfaction Guaranteed
Download as much as you need
You can choose from two membership options:
Lifetime or Monthly
Starts at $32.50